The promontory of Nazaré in Portugal, where is the lighthouse, separate two very different beaches! South of the lighthouse is a quieter beach, the main beach of Nazaré. On the North of the lighthouse, the North Beach (Praia do Norte) with an angrier temperament due to the Nazare North Canyon - big waves generator, where the sea offers giant waves!
It's in North Beach that lately we have seen the big wave surfers beating world records.
However, surf in Nazaré is already recorded since the 60s, when the surf began to gain fans in Portugal. The video one shows American surfers enjoying the small waves on the main beach, in 1968. Probably they were the first to surf this beach.
Bodyboard also found a place in Nazaré, mainly in North Beach. In a long time, bodyboarders catch these waves, sometimes… dangerously! On video two we can see one of those sessions, on November 2004. The bodyboarders face the big waves without any support!
Since 2003, it takes place in North Beach the Nazaré Special Edition (Sumol Special Edition since 2005), an international bodyboarding championship for invited athletes.
The 3rd video shows the first record in the giant waves of the North Beach, where two bodyboarders (Porkito e Faustino) face the big waves without the support of jet skis! (November 2009).

Praia do Norte 11-14-2009 from meiasdeleite on Vimeo.
It was only in 2010 that the famous big wave surfer, Garrett McNamara, came to Nazaré. He was invited by Dino Casimiro (bodyboarder of Nazaré, graduate in Physical Education and senior technician of the City Hall). Then began the project Zon North Canyon Show and in 2011 McNamara caught a wave with 24 meters (78 foot), beating the world record for the biggest wave ridden!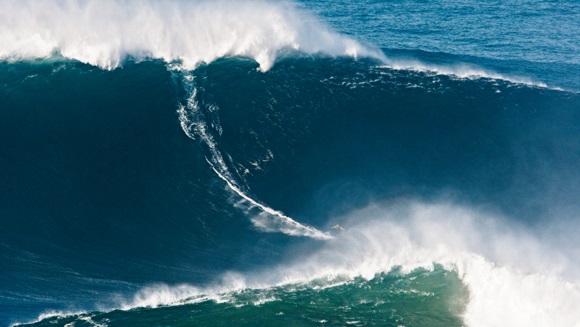 Thereafter, Nazaré was on the news worldwide and became the most famous spot in the big wave's agenda. Each year more and more surfers, from various corners of the planet, come to Portugal, to challenge the biggest wave of the world!
The first big waves surf competition that took place in Nazare was the WSL Nazare Challenge in 2016.
Check also the Nazare North Canyon - big waves generator.