History was made in Nazaré! The 1st big wave competition at Praia do Norte
Published: 12/20/2016 | Modified: 12/21/2016
WSL Nazaré Challenge won by Jamie Mitchell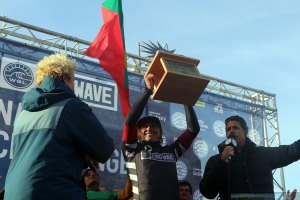 On this Tuesday Nazaré received, for the first time, an event of the Big Wave Tour from the World Surf League. Twenty four brave surfers challenged the giant waves of North Beach on a sunny day with a lot of public.
The forecast didn't fail and today brought good surfing conditions: weak wind, waves between 4 and 12 meters and period of 15 seconds.
The first exciting moment came in the first round, when Damien Hobgood ride the first wave of the day, getting 9.5 points out of 10 possible points.
Throughout the day the sea offered great wave sets, testing the surfers, who managed to control some waves, offering a good surf exhibition. In the fight between nature and Man, some waves prevail and "swallowed" some surfers, who quickly returned for another fight!
The final round had the presence of the surfers Jamie Mitchell, Carlos Burle, João de Macedo, António Silva, Pedro Calado and Nick Lamb. The Australian Jamie Mitchell was the winner of the Nazaré Challenge. His best wave, in the final, got 8.67 points, making a total of 23.94 points. The Brazilian Carlos Burle came in second, with a total of 13 points, declaring an emotional speech. In third place was the Portuguese João de Macedo, with 10.84 points.
This event was the culmination of a successful project that began six years ago, with Garrett McNamara and Dino Casimiro, who invited him to visit Nazaré. These two ambassadors of the giant waves of Nazaré always believed in the potential of this place, and finally, the world championship tour arrives here. Congratulations to all the participants of the event and next year Nazaré hopes to stage another event of the Big Wave Tour.
Check out some of the best moments of the event on the official WSL website.
Surfers competing on Nazaré Challenge:
Portuguese: João de Macedo, Alex Botelho, Hugo Vau, António Silva and Nicvon Rupp
Brasilian: Carlos Burle and Pedro Calado
Peruvian: Gabriel Villarán
Chilean: Cristian Merello and Ramon Navarro
Hawaiian: Aaron Gold, Kealii Mamala, Koa Rothman, Trevor Carlson, Kai Lenny and Billy Kemper
British: Andrew Cotton and Tom Butler
American: Damien Hobgood, Greg Long, Nic Lamb, Grant Baker and Will Skudin
Australian: Jamie Mitchell
South African: Grant Baker
Look at today's session: below the photos, click to enlarge. (photos by André Botelho)