A giant hole in the bottom of the sea!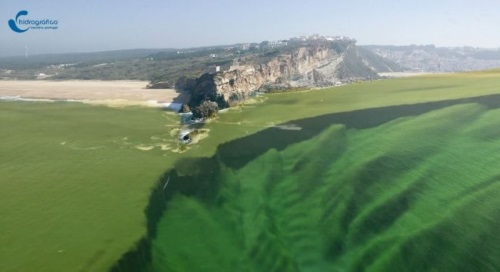 The Nazare North Canyon it's one of the largest submarine canyons in Europe. It is 227km long and 5000m maximum depth, with several steep slopes.
The origin of the Canyon is still shrouded in mystery, because it belongs to a complex geological area. However, researchers believe that it might be related with the Nazaré fault, a fracture zone with movements that can cause earthquakes.
Since old times, the surrounding area of Nazare has always been dreaded by fishermen. Several shipwrecks occurred and even a german submarine of the World War II lies there. The cause of this hazard zone is below the water... right in the bottom of the ocean!
Right in front of the Nazaré beach, so many times peaceful and inviting for a dive, there's a sleeping giant! We don't want to wake him up! Or we will be punished with waves of 30 meters (almost a 100ft)!
With a deceitful topography, this giant submarine valley is able to change direction and speed of the waves, as they travel through the canyon. The exit of those waves is not a peaceful one.
How nature creates the giant wave?
It has long been known that something is different in North Beach!On special days, with the combination of several elements of nature, as if it were a conspiracy, the magic happens!
The canyon's presence creates special conditions for the build up of big waves.It will separate the wave into two, increase the speed of the wave that travels in the canyon and make them reunite again.
The opposite ocean current coming from the beach will also add a few more meters.
For the birth of a giant wave, it is important to add a few more ingredients to this recipe!These conditions include the wave period(greater than or equal to 14 seconds), the wind(ideally weak) and the direction of the wave(ideally from W/ NW).
The North Atlantic storms occurring during the Autumn / Winter, are another important factor, which brings considerable swells to the canyon. With all this troubled path, an Atlantic's "innocent wave", destined to the Nazaré, can have its height tripled!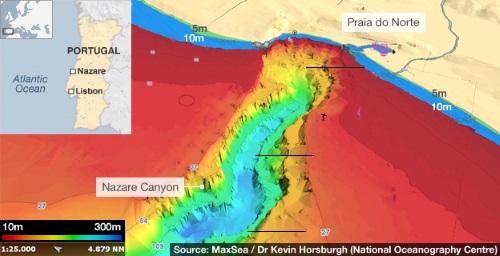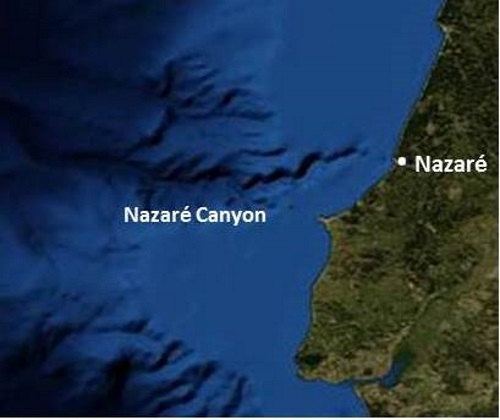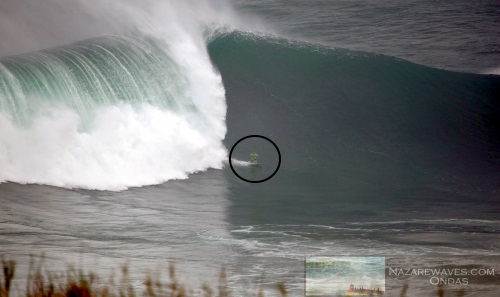 For a more detailed technical analysis of how large waves are formed, consult this page from Instituto Hidográfico (in Portuguese).
See the following videos that explain how giant waves form (in Portuguese). The first is from Instituto Hidográfico and the second from SNIMar:
Check also the Brief history of Nazaré waves.