About the 1st giant swell "Big Monday" - October 24
Published: 11/10/2016 | Modified: 2/23/2023
See more videos and interviews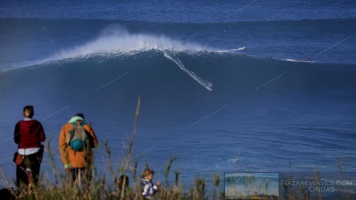 We showed in this publication about the bigs waves of Monday, October 24, day that was known by the new "BIG MONDAY" in social media.
This day gave very big waves, three of which were named for the biggest in the year, for the "WSL Big Wave awards."
Now, we present one amazing video reported in this day, and a exclusive interview for NazareWaves.com by the mexican surfer Coco Nogales , about your 1st experience in Nazaré at this acclaimed day.
NazareWaves.com - Coco Nogales - 10-2016 from NazareWaves on Vimeo.
INTENSE NAZARE from alfonso nieva on Vimeo.


In the next days we don't expect a big swell, but pay attention on site NazareWaves.com for more publications about the big waves in Nazaré and forecasts.
Check all the photos of this day bellow (press to zoom):