Surfer Nic von Rupp in the spotlight on HBO
Published: 4/16/2023 | Modified: 4/16/2023
2nd season of the series "100 Foot Wave" to premiere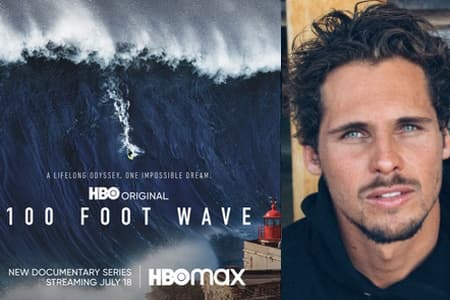 Nic von Rupp takes a prominent role in the new season of HBO Max's series "100 Foot Wave", which premieres on April 17th, 2023 on the streaming channel HBO Max.
Renowned Portuguese surfer Nic von Rupp is one of the stars of the upcoming season of the HBO Max documentary series "100 Foot Wave," which premieres on April 17. The series follows surfers' pursuit of massive waves, primarily in Nazaré. After the success of the first season, which featured the discovery of the 30-meter wave by Garrett McNamara, the second season with six new episodes showcases the challenges faced by the new generation of surfers tackling Nazaré's giant waves, including Nic von Rupp's participation.
View this post on Instagram
Nic von Rupp expressed his honor in participating in the documentary about the giant waves of Nazaré, as the waves have become a tourist attraction in Portugal and receive visitors from all over the world daily. He also mentioned that it's a pride for him to help promote Nazaré after Garrett McNamara's valuable contribution in promoting this hidden gem of surfing in Portugal.
Directed and produced by Chris Smith and Joe Lewis, the series "100 Foot Wave" was awarded an Emmy for Outstanding Cinematography for a Nonfiction Program at the 74th Primetime Creative Arts Emmy Awards in September of last year in Los Angeles, California.
View this post on Instagram
Nic von Rupp is also known for his participation in the Eddie Aikau Big Wave Invitational, the most prestigious big wave competition in the world, where he was the only Portuguese surfer invited and achieved the 22nd place. Recently, he also became the first surfer to win the Capítulo Perfeito three times, an event that has been held since 2012 at Carcavelos Beach, in Cascais.
View this post on Instagram
More about Nic: Nic von Rupp is a Portuguese surfer born in 1990 and raised in Sintra. He started surfing at the age of 9 and had a successful junior career, winning national and international titles. As a professional, he traveled globally on the World Qualifying Series, where he was named "European Surfer of the Year" in 2013. In the last five years, Nic has stood out in the world of big waves, pushing the limits of what is possible on dangerous waves like Nazaré, Maverick, and Jaws. He was awarded Performance of the Year at the prestigious WSL Big Wave Awards in 2019 and 2020, and ranked among the 21 most influential people of 2021 by Stab Magazine. Nic has also created campaigns with Nike and TED Talks discussing his fears, both directed and produced by his own media team.
Check out more information about the new season of "100 Foot Wave" here, including the trailer.
See below for more photos of the surfer, click on the thumbnails to enlarge (photos by Global Press):