Nazaré big wave in New York!
Published: 6/16/2018 | Modified: 6/22/2018
Times Square with giant screen and wave of Nazare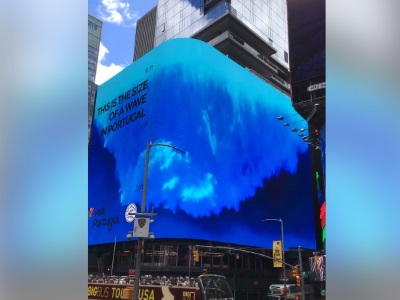 Turismo de Portugal has launched a tourism promotion initiative for Portugal in New York, focusing on the Portuguese waves and highlighting the giant wave of Nazaré, the largest wave in the world.
The wave surfed by Rodrigo Koxa at Praia do Norte - Nazaré (24.38 meters) in November 2017, and which won the big waves awards of 2018, was shown on the big screen in Times Square - New York, on the famous American square where circulate thousands of people every day.
The screen is about 30 meters, which fits almost the actual size of the wave, giving a realistic perspective of the size! Watch the video of Turismo de Portugal:
Turismo de Portugal intends to bring more tourists to Portugal, and to invest in the Surf tourism, Portugal has a great coastline with good waves for everyone. The presentation was on June 15, attended by the Prime Minister, the Mayor of Nazaré, Rodrigo Koxa and Garret Mcnamara, among others. You know, to follow the waves of Nazare is on the site nazarewaves.com.
For those who want to see the giant Nazaré wave live, they will have to wait a few more months until September, when the big wave season begins again, to plan your trip, consult the information for tourists.