Aritz Araburu wins the Allianz Perfect Chapter in Nazaré
Published: 11/1/2016 | Modified: 11/1/2016
Wonderful conditions provide great surf rounds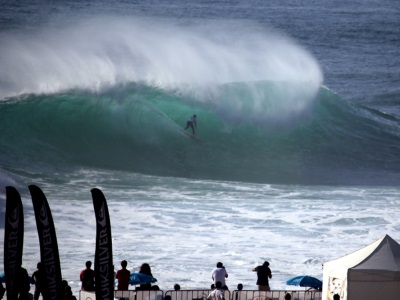 Yesterday, October 31th, Nazaré received the Best Perfect Chapter ever!
It was a great show, experienced by all participants. This competition joins national and international surfers, in search of the perfect tube.
The morning was difficult, but the evening provided the ideal conditions, bringing waves between 2 and 4 meters. The North Beach offered consistent waves with beautiful tubes and the 16 surfers offered us a good spectacle, where the queen maneuver was the tube. The surfers themselves were impressed with the features of the North Beach.
Aritz Araburu, invited Basque surfer, was the big winner of this competition, also winning the best tube (9.80 points) and best score (19.05 points). The prize Ricardo Santos, to honor the Brazilian surfer, assigned to the 2nd place went to Balaram Stack. Pedro Scooby won the award Best Loser, Bruno Santos won the Best Wipeout and Nic von Rupp won the Best Claim.
Congratulations to Peter Pecas and Rui Costa, for the timely Call and excellent organization, proving that the long wait was worth it!
We anticipate that, next year, the Perfect Chapter will be in North Beach. This beach has shown great versatility, proving that it can be the stage for several surf events and other sports. Maybe it's a spot to consider for the World Surf Championship, from the World Surf League.
Soon, we expect a giant swell, that will bring the famous surf sessions to our beach.
Follow the official link of the Perfect Chapter for all news.
See the spectacular photos of the event, by the photographer André Botelho.
(Photos below - click to enlarge)