Important day to the World Surf Championship in Nazaré
Published: 10/15/2016 | Modified: 10/15/2016
The begin of the waiting period for Big Waves was marked by a ceremony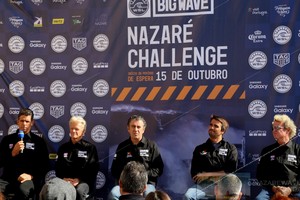 Today, October 15, the Nazaré lighthouse was the stage for the waiting period for Big Waves World Championship official opening. That was here, in the São Miguel Archangel fort that the opening ceremony took place, under the expectant gaze of Big Riders of all the world.
Many surf professionals were present, namely, Garrett Mcnamara, Sebastian Steudner Tom Butler, Nick Von Rupp, Tom Lowe, Jamie Mitchel, Maya Gabeira, Carlos Burle, Marcelo Luna, Rafael Tapia, Hugo Vau, Joao Macedo and Antonio Silva.
The President of Nazaré, Walter Chicharro and the President of Peniche, António José Correia, praised both the ceremony.
Members of the organization Peter Mel, Bill Sharp and Scoot Eggers were present, as well as the representative of the WSL in Portugal, Francisco Spinola.
One of the highlight ceremony was when the surfers made a circle holding hands in the sea to celebrate this day.
Check in the picture gallery below (press to widen):