Strong Nazare at Big Wave Awards 2016
Published: 3/31/2016
Nazare has 3 nominated waves for Biggest Wave category at WSL Big Wave Awards 2016. Its time to vote too for the Redchargers wards.
The 2015/2016 big waves winter season was amazing at Nazare, NazareWaves.com website reported all season with nice photos of surf sessions, where the biggest waves were surfed.
Since the year 2000, there is a big waves awards (at beginning BillabongXXL), now WSL Big Wave Awards.
The show will be 23th April 2016 at California, Nazare says present again, this year with 3 waves in the Biggest Wave category! And other wave in Surfline Performance with Nic Lamb. The 3 biggest waves are form Brazilian Pedro Scooby at 10/27/2015, from havaian Garrett McNamara at 11/01/2015 and from Australian Mick Corbett at 02/19/2016.
We posted here in first hand some of that photos, throught our photographer André. Review our post history with the waves surfed in that days, with great photos.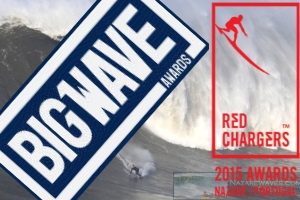 Check here the official WSL big waves awards website with more photos and videos of the nominated waves.
We hope that Nazare confirms again the award for the biggest wave in 2016, like it happened in the last year!
It's time to vote too for the RedCharges surfers, that went to the Nazare waves this season, vote here at Redchargers website.