Entry in 2016 with rough seas without surfers
Published: 1/3/2016 | Modified: 10/24/2020
Good to watch
As reported, the strong swell forecast was confirmed in early 2016. Yet the days leading up to January 2 were stormy, the sea was with "hangover" as they say, appearing very moved. There weren't many surfers in Nazare, maybe they were also with hangover after the New Year's Eve? :)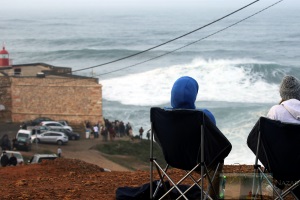 We want to alert you to when approaching the sea, be careful, because in Nazare sea is unpredictable and very strong. Unfortunately in New Year's Eve a person disappeared in spite of the authorities prevention and alert.
According to forecasts, the sea will continue with very heavy swell but also windy, which should not help in the formation of good waves, January 9 may be good, look here for forecast.
Despite the surfers didn't enter the sea on 2nd of January 2016, photos are always beautiful, see below, both in North Beach as the main beach of Nazaré, always with big bombs, it was a good day to watch the sea and to relax at the beginning of the new year.