Surfer dies while riding a wave in Nazaré
Published: 1/14/2023 | Modified: 1/14/2023
The last wave, RIP Márcio Freire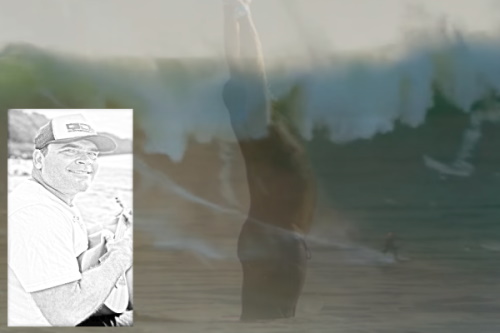 On January 5, 2023, Brazilian surfer Márcio Freire died after surfing a big wave in Nazaré.
It is with sadness that we write this text, and we send condolences to family and friends, and the surfing community in general. The following video shows the surfer's last wave, where the accident happened.
Although on this day the waves were not very big, at the end of the day the sea increased in size, and you can see that the wave was big and strong. The surfer was taken by the wave and it looks like he was underwater for a few minutes, he may have lost consciousness, it's not clear. After a few minutes he finally appeared already floating and was rescued by other surfers / colleagues on jetski, he was taken to the sand where they tried to revive him with the support of lifeguards and security team, unfortunately without success.
In the following days, morale was very low in Nazaré, with many surfers not going to the sea, despite having very good waves.
Many surfers showed their solidarity with the Brazilian surfer on social media.
Big wave surfing is a sport with great risk, and it was known that one day this could happen in Nazaré, in fact, several surfers were close to losing their lives over these last 10 years of exploring the giant waves. Maya Gabeira and Alex Botelho, in previous seasons, were unconscious in the water for a few minutes, but luckily they survived and recovered after some time in the hospital. There were also reports from Pedro Scoby, António Silva, among others, in which they say they were in very delicate situations after falling surfing and being hit with consecutive giant waves on their heads, with a long time without being able to breathe. In some past articles and in the videos menu, you can see some examples of these dangerous situations, which fortunately had not caused victims, until now.
Surfers who risk surfing these waves must have the preparation and equipment to match, and in the case of Márcio Freire, it is known that he was a very experienced surfer (particularly in big waves), after a lot of exploration in Hawaii / Jaws.
Extreme sports are like that, for example in the Dakar Rally, it is common for a driver to die in many editions, unfortunately, but sport and the challenge continues, it is the Human spirit.
We hope that this does not happen again, and that even more focus is placed on safety, health/preparation and equipment, in order to minimize risks in the future.