First big swell of the season 2022/23
Published: 11/8/2022 | Modified: 11/26/2022
Good warm-up for the new big wave season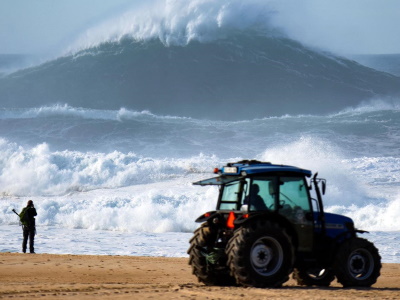 Monday the 7th of November 2022 definitely marked the start of the 2022/2023 winter big wave season in Nazaré, Portugal. It was considered the 1st big swell of this season.
The wave footage just keeps getting better, now with an amazing water angle from jetski, by Tim Bonython / Surfing Visions (an award winning Cinematographer and Director), and including spectacular drone footage by Tucker Wooding Media, split in 2 amazing videos, at the end of the 2nd video you can see the biggest wave of the session filmed on the front by jetski, amazing!


The forecast did not fail, and the alert was given a few days in advance here on and on our Facebook page:
Soon we will have new more practical notification functionality, for now check the site regularly.
Watch the summary video of this day, with breathtaking waves, by Miguel Sousa:
Many surfers were in the water, including Will Skudin, Andrew Cotton, Lucas Chumbo, Pedro Scooby and Carlos Burle.
It was also worth noting the amount of jet skis present during the morning, needed a good coordination so there are no accidents.
This month should bring more strong swells, be aware.
Check some spectacular photos from this day, by Vitor Estrelinha | Praia do Norte (click to enlarge):