Big Wave Awards 2020
Published: 7/29/2020 | Modified: 9/10/2020
Nazaré's XXL waves highlighted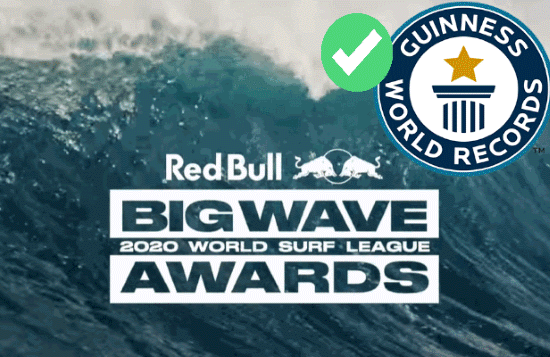 [UPDATE 09/10/2020: See last winners further down in the text]
Another edition of the "Big Wave Awards" is taking place, developed by WSL and Red Bull, now in 2020 with a new format of one winner per week and voting by the public, having the following surf categories:
Wipeout
Paddle
Performance
Ride of the Year
XXL Biggest Wave
Nazaré stands out in the XXL Biggest Wave category, as expected, with 7 nominated waves out of a total of 8 waves. The winning wave in this "queen" category is likely to be from Nazaré, and possibly could correspond to a new world record for the height of the wave surfed.
It is already certain that the biggest wave of the female nominees will be a wave from Nazaré, since the 3 nominated waves are in Nazaré, and the winner will be Justine Dupont or Maya Gabeira.
See the photos and videos of named waves on the official WSL website. Some of the nominated waves are from February 11, 2020, during the WSL Nazare Challenge, see here the event report.
Also check the video of a spectacular wave by Kai Lenny, filmed during the WSL Nazare Challenge, with good chances of winning in the XXL category:
[UPDATE 10/Sep/2020]
The following winners were revealed:
Wipeout - Keala Kennelly (won even the male competition)
Paddle - Paige Alms (feminine) and Eli Olson (male), both with waves surfed in Jaws, Hawaii
Performance - Justine Dupont (feminine) and Kai Lenny (male), both for their performance in the Nazaré Tow Surfing Challenge on 11/Feb/2020.
Ride of the Year

Male - Billy Kemper, wave surfed in Jaws.

XXL Biggest Wave
See the recent WSL video on the big wave awards, with the announcement of the Guinness record for Maya Gabeira, an explanation of the scientific way that was used to measure the waves and tie off with the other wave of Justine Dupont (also giant), and with interviews to the two surfers:
Thus, all the big wave prizes, distributed during August and September 2020, are awarded, with Nazaré standing out in the big wave world.
This month (September) the beginning of the occurrence of large waves in Nazaré is likely, be aware of the alerts here on the nazarewaves.com website.