Nazaré Tow Surfing Challenge with confirmed date
Published: 2/10/2020 | Modified: 2/10/2020
The event will be on February 11, 2020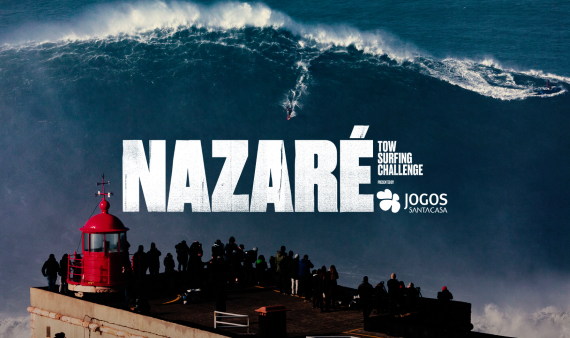 Finally the big wave event "Nazare Tow Surfing Challenge" has a date set in Nazaré, after a long waiting period since October, it will be next Tuesday, February 11, 2020, as we had already announced as soon as it was alerted a few days ago.
Forecasts indicate that a big swell is going to come in the next few days and with good conditions to catch those building-sized waves, let's see if it is confirmed.
The best male and female big wave surfers in the world will challenge the giant waves of Nazaré, try to beat Guinness records, in an uninterrupted surfing challenge.
For more information on tourism, how to get to Nazaré, where to see the competition, etc., see the tourism page.
Check the video trailler of the event by WSL:
Check more info about the event in official WSL Website (World Surf League – organizer), and the status and live results of the Nazare Tow Challenge.
The waves are huge, the action is exciting and the surf is a must.
Check the competitor list, with well known big waves surfers:
Group A: Heats 1 & 3
Team World: Sebastian Steudtner (DEU) + Maya Gabeira (BRA)
Team Europe: Nic von Rupp (PRT) + Francisco Porcella (ITA)
Team France: Benjamin Sanchis (FRA) + Eric Rebiere (FRA)
Team Australia: Ross Clarke-Jones (AUS) + Mick Corbett (AUS)
Team Atlantic: Grant Baker (ZAF) + Antonio Silva (PRT)
Group A: Heats 2 & 4
Team Portugal: Alex Botelho (PRT) + Hugo Vau (PRT)
Team Great Britain: Andrew Cotton (GBR) + Tom Butler (GBR)
Team Brazil: Rodrigo Koxa (BRA) + Pedro Scooby (BRA)
Team Young Bulls: Lucas Chianca (BRA) + Kai Lenny (HAW)
Team Justine: Justine Dupont (FRA) surfer only + Fred David driver only
Check the Nazare Challenge poster (by WSL facebook):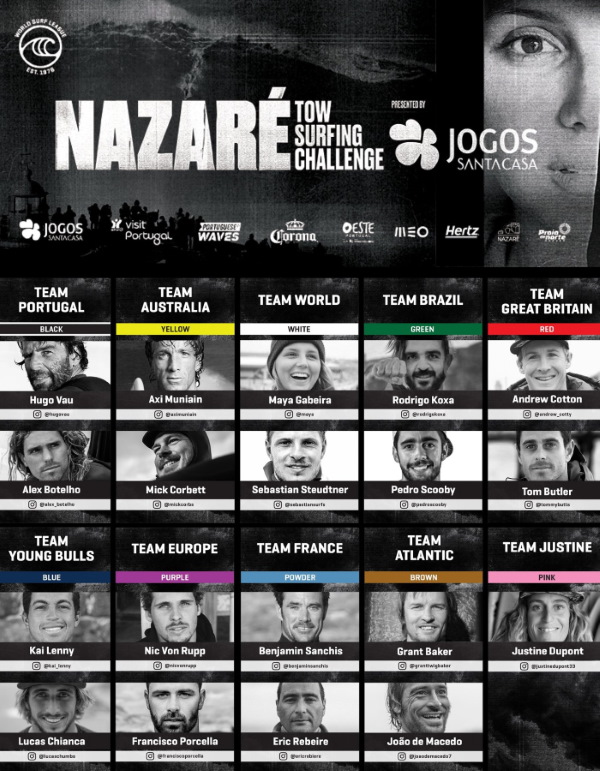 Follow on the day of the competition at nazarewaves.com, next Tuesday, February 11, 2020.
More info soon.