Latest Swells of 2019 in videos
Published: 1/1/2020 | Modified: 1/10/2020
Check raw videos filmed from the Nazaré Lighthouse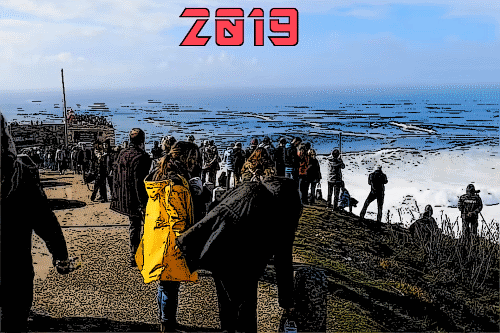 In the last months of the year (2019) there were big swells in Nazaré, as usual at this time.
Watch some unedited videos filmed by the lighthouse to get an idea of what it's like to see live, including all the background noise, videos by "Jo Alex".
The big wave season in Nazaré, which coincides with the winter in Portugal, will continue until March 2020, big swell is expected in the coming months, follow the forecasts on the main page.
We also warn you to be careful by the sea, see the danger that occurred near the lighthouse, in a limited area, where several people were hit by a wave, luckily no one was hurt, video by "Ivo" (Instagram @storms_bigwave):
The annual big wave competition "Nazaré Tow Challenge" has no date yet, but should take place in January or February (most likely), follow our website to receive alert.