WSL Nazare Tow Surfing Challenge 2019/2020
Published: 11/2/2019 | Modified: 11/2/2019
Waiting period for the biggest big wave event has begun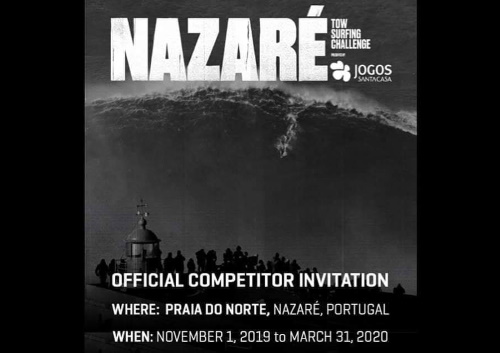 This winter 2019/2010 the WSL annual big wave event in Nazaré is called "Nazaré Tow Challenge".
The waiting period for the event has already started from 1 November 2019 until 31 March 2020.
The confirmation of the day of the event will be made a few days in advance, when a good forecast is confirmed, with the guarantee of giant waves!
This event will have a different format than last year, surfers will catch the waves using jet skis instead of paddling as in previous years. This will make it possible to catch the biggest waves ever during that day, a unique spectacle.
More information about the event and tourism in Nazaré.
Follow our website to receive alerts as soon as the race date is confirmed.