Epic wipeout and new record?
Published: 12/21/2018 | Modified: 12/21/2018
Check amazing videos of big action at Nazaré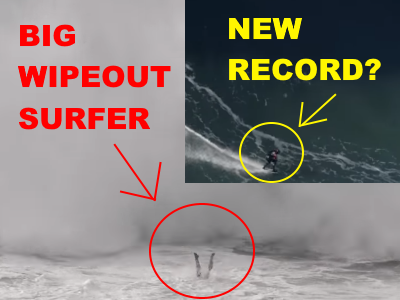 On December 14, 2018, Thiago Jacaré fell from the board while surfing a giant wave at Praia do Norte in Nazaré, and then caught up with several huge waves on top, were difficult times and could have gone wrong.
Thiago was rescued and arrived in the sand at the limit of his forces, having been taken to the hospital, but fortunately is well. In the Instagram Thiago described in his words the moment.
See below the impressive video of Pedro Miranda, with all the action and rescue!
On the same day (12/14/2018), Tom Butler surfed a very big wave that could beat the record of the biggest wave surfed in Nazaré, it is necessary to wait several months for the measurements to be confirmed. Check the brutal video of Pedro Miranda:
Winter is long and the action will continue in Nazaré, enjoy Christmas and go to Nazaré if you can, and see the magnificent view and with a bit of luck you can see the big waves, follow our alerts for great swells in the main page on the site nazarewaves.com and in the Webcams + Forecasts menu. See the Tourism menu for tips on travel planning.
Promote our site to help us create good content, thank you.