EPIC Nazare - Big Wave Tour 2018/19
Published: 11/16/2018 | Modified: 11/24/2018
WSL Nazare Challenge 2018/19 won by Grant Baker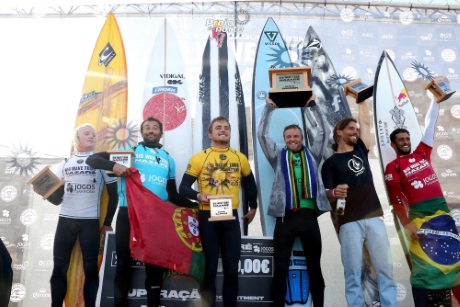 This Friday, November 16, Nazaré received the best surfers in the world, in Nazare Challenge at Praia do Norte, the first stage of the Big Wave Tour.
It was an epic day, overcoming all the odds, with numerous and consistent waves, some tubes and the surfers provided a great surf show, maybe the all time best of the WSL big wave tour.
The waves were around 9 meters, with a period of 14 seconds and offshore wind. As noted by commentator Garrett McNamara, this is one of the hardest places to predict conditions, and WSL's choice for this day was a perfect bet!
Review the event video from WSL (World Surf League) Facebook page:

Once again the public joined this sport event, shaping a big human frame in the hills of North Beach. The six finalists were the Portuguese João de Macedo and Alex Botelho, the Brazilian Lucas Chianca, the South African Grant Baker, the Australian Russell Bierke and the Basque Natxo Gonzalez.
It was a great final! The winner was Grant Baker, dethroning the winner of the previous edition, Lucas Chianca, who finished 2nd. Natxo Gonzalez was in 3rd, Alex Botelho in 4th, João de Macedo in 5th and Russell Bierke in 6th. The Prize Overcoming went to Natxo Gonzalez.
Check bellow the amazing photos of today by Praia do Norte / Vitor E. (click to enlarge). (More photos soon).
Review some of the best moments on WSL official website.
Surfers competing on Nazare Challenge:
Portuguese: João de Macedo, Alex Botelho, António Silva, Nic von Rupp, João Guedes
Italian: Francisco Porcella
Brasilian: Pedro Calado, Lucas Chianc, Ricardo Koxa
Hawaiian: Kai Lenny, Billy Kemper, Nathan Florence, Makuakai Rothman, Ian Walsh
British: Tom Lowe, Andrew Cotton
American: Nic Lamb, Greg Long, Will Skudin, Jojo Roper
Australian: Jamie Mitchell, Russell Bierke
South African: Grant Baker
Basque: Natxo Gonzalez
Review the great TOWIN event that happen 18 Nov. at Nazaré, transmited by WSL (World Surf League) Facebook page, two days after the main event:

FORECAST for the weekend: expecting the BIGGEST swell of the season for Saturday and Sunday!!! But no favorable wind. To be confirmed tomorrow morning.