The Big Waves Season has started
Published: 10/7/2018 | Modified: 10/7/2018
Surf, bodyboard, bodysurfing, lots of activity in the next months at Nazaré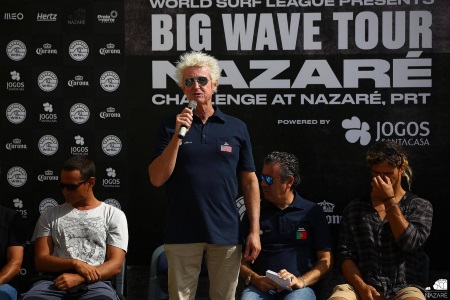 In the aftermath of the last big waves season in Nazaré, two world records came out:
After summer in Portugal, the big wave season is back in October at Nazaré, with many activities expected in the coming months:
Bodyboard - Nazaré PRO (running now)
Bodysurf - Ahua – Masters of the Temple
Big wave surfing throughout the season from October 2018 to April 2019
Thousands of tourists from all over the world want to come and see the biggest waves in the world, to help plan your trip, check our Tourism support page, with good tips to see the big waves live.
Check below the photos of the launch event of the Nazare Challenge (big wave surfing event), and the awarding of the Guiness record to Maya Gabeira. Photos by Vitor Estrelinha.
Follow nazarewaves.com for more information and updates, please share it to support us.