Latest Highlights from Nazare
Published: 3/9/2018 | Modified: 3/31/2018
Weekend brigs Felix Storm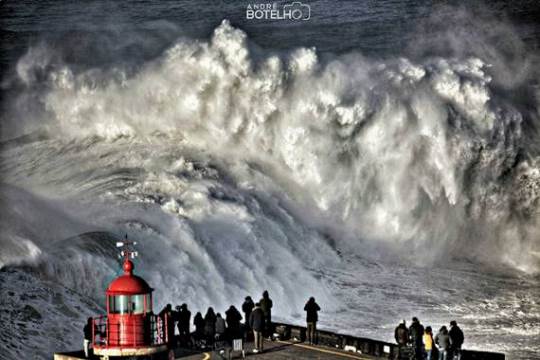 Many already call it the eighth wonder of the world ... the Wave of Nazare! The merit is there and has attracted the media all over the world. This time it was the prestigious 60 Minutes Australia that came to meet the giant waves and talk to some of the most fearless surfers. Do not miss the report, now available on youtube.
Some of the fascinating videos from Nazaré are made by the Flying Machine, which brings us new angles, new perspectives and new emotions of the giant waves. (check the videos bellow)
ATTENTION: We remember that the Felix Storm, which plagues our coast this weekend, will bring a lot of rain, strong winds and heavy seas! In spite of the strong swell expected for Sunday, The National Maritime Authority advises against approaching coastal areas until the weather conditions are improved and safety conditions are guaranteed. On big wave days the swell at North Beach usually is about 4 or 5 meters, then enlarged up to 20 meters. For this Sunday is expected a swell greater than 8 meters, unusual. However, that isn't guarantee for the giant waves formation. The wind will be very strong and unfavorable in direction.
Under the forecast there will be no surf practice until the conditions improve. Keep following the forecast and the local webcam of North Beach. Good waves!
Check the great videos bellow: