William Aliotti wins Perfect Chapter at Nazaré
Published: 2/24/2018 | Modified: 2/27/2018
North Beach received competition with good tubes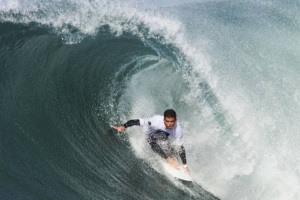 National and international tube riders competed today in the waters of North Beach, in the 6th edition of the Perfect Chapter, a challenge where barrel is the queen maneuver.
The national athletes in competition were António Silva, Alex Botelho, Miguel Blanco, João Guedes, Tiago Pires, Pedro Boonman, Bruno Grilo and Filipe Jervis. The internacional athletes were Alex Gray, Cory Lopez, Pedro "Scooby", Bruno Santos, Anthony Walsh, Balaram Stack, William Aliotti and Lucas Chianca.
Made it to the final the Brazilian Lucas Chianca, the French William Aliotti and the Americans Cory Lopez and Balaram Stack. The big winner was William Aliotti. Congratulations!
Remember the best moments of the day in the LIVE broadcast. Check more info at Capitulo Perfeito official website.
Keep following the forecast and the local webcam of North Beach. Check today photos by André Botelho. Check the great photos of this great day: