Big Waves return after Nazare Challenge
Published: 2/16/2018 | Modified: 2/17/2018
Nazare Canyon wakes up big!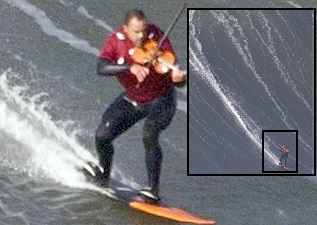 Another fantastic day at North Beach! After the shy waves on Nazare Challenge, the Canyon decided to wake up and show what he can do!! Will we have winners for the Big Wave Awards? Perhaps!
From dawn until the end of the day many surfers marched on the giant waves of North Beach! The swell coming to Nazare would be around 5meters (16ft) but was extended by the canyon up to 15 meters (49ft) or more, sensibly. The wind ... finally offshore helped to build the waves. Nuno Santos raised the bar and didn't need his arms to balance! He played the violin while ridding another monster from Nazare!
Chek the next video with some of the best moments, published by Sebastien Steudtner (Production by Alexander Triebel / Young Shoot Official in collaboration with Arctic):
Surfers in the water: Justin Dupont , Maya Gabeira, Alemão de Maresias, David Langer, Coco Nogales, Carlos Burle, Axi Muniain, Ross Clark Jones, Garrett Mcnamara, Lucas Chumbo, João de Macedo, Alex Botelho, Hugo Vau, Nuno Santos, Ian Consenza, Eric Rebiere, Fred David, Twiggy Baker, Othmane Choufani, Toby Cunningham, Sebastien Steudner, Marcelo Luna, Sérgio Cosme, Alessandro Marciano, Tom Butler, Andrei Ovchinnikov and Alex Wippel.
Keep following the forecast and the local webcam of Praia do Norte. Check today photos by André Botelho.