Lucas Chianca wins the Nazare Challenge
Published: 2/11/2018 | Modified: 2/13/2018
Portuguese round for WSL Big Wave Tour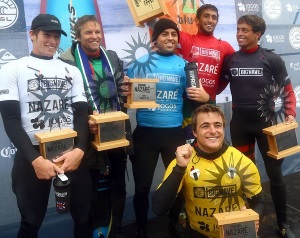 On this Sunday North Beach hosted the world's best surfers, on the 2nd day of Nazaré Challenge, the Portuguese event for the Big Wave Tour. To notice that thousands of people came to watch the event! Even with a North Pole cold, a wind from Groenland and a chilly rain! Another proof that surf is a rising sport, with more and more fans.

Today the conditions improved, the wind settled down and the remaining heats were completed: heat 3 and 4, the two semi finals and the final. Congratulations to the five Portuguese surfers in the challenge, Alex Botelho, , Hugo Vau, Nic von Rupp, António Silva and João de Macedo.
The finalists were Lucas Chianca, BillyKemper, Nathan Florence, Natxo Gonzalez, Kay Lenni and Grant Baker. The Brazilian Lucas Chianca was the winner! Billy Kemper came in 2nd the basque Natxo Gonzalez in 3rd. Billy Kemper, with his amazing performance is now in the 1st place in the ranking, with 27,140 points.

Lucas Chianca joins Kai Lenny, who won the Hawaii challenge and Ian Walsh who won the Mexican challenge. The final winner will be decided at Mavericks, California. Good luck to everyone!
Check here the Nazare Challenge video repeat from WSL:

It was pity on Saturday to be so windy as it had stronger swell. Today the swell dropped and the biggest waves were around 7 meters. These 2 days didn't show the true potential of Nazare and many good waves have passed this winter! We hope that next Nazare Challenge will be in a big bomb day!!
Remember some of the best moments of the day on the official website of WSL and check the Big Wave Tour ranking. Keep following the forecast and the local webcam of Praia do Norte. Here are the amazing photos of today by André Botelho and Vitor Estrelinha. (click to enlarge)