Big swell reaches Nazare
Published: 1/17/2018 | Modified: 1/24/2018
Canyon fires big waves at North Beach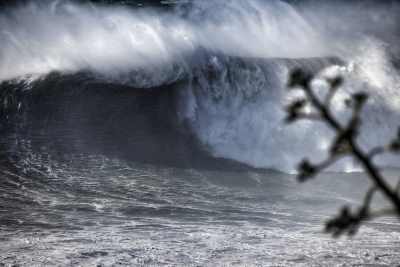 The queen wave ... is back!
The forecast didn't fail, nor the nature! This Wednesday, january 17th, brought the swell announced and the canyon fired waves around the 10 meters. It weren't just the big waves of Nazare, they were angry, merciless and majestic waves! A sight worth seeing. The strong wind shaped the waves and decorated them with various shapes and contours.
After the morning fog leave, a beautiful sunny afternoon arrived and a large audience came to watch. The wind was strong and the heavy seas didn't allow good conditions for surfing. Several jet skis were in the water, but in a safer area, away from the wash zone.
The following surfers were in the water: Sebastian Steudtner, Axi Muniain, Alex Botelho, Hugo Vau, Eric Rebiere, Maia Gabeira and Justine Dupont. At least one wave was surfed by Axi Muniain.
Only in the late afternoon HISTORY was made in North Beach! When Hugo Vau, Alex Botelho and Marcelo Luna were still in the water, a unique wave, a very special wave came! Hugo Vau surfed that wave, which could be around 35 meters, and certainly beat the world record of the largest wave surfed! The World Surf League decision is awaited. Congratulations to the team Hugo Vau, Alex Botelho and Marcelo Luna.
At the end of the afternoon there was still a crowd of people watching the big waves. The swell will continue to grow, reaching the peak at dawn, unfortunately!
ALERT: THIS THURSDAY, JANUARY 18TH, ARE ALSO EXPECTED BIG WAVES. The forecasts points for a good swell high, 10 meters at least, period of 18 seconds and weak wind from northwest, offshore, which is quite favorable.
Keep following the forecast and the local webcam of Praia do Norte. Here are the photos of today by André Botelho . (click to enlarge)
Also remembering that until February 24 is possible to visit, in the Municipal Library of Nazaré, the photographic exhibition, by André Botelho. The exhibition portrays his work on the great waves of North Beach over the past few years, including the waves to the WSL Big Wave Tour. A unique opportunity to see the biggest waves in the world in a different format.