Surf, Bodyboard and Slackline session in Nazaré
Published: 12/30/2017 | Modified: 12/31/2017
Surfers training in Nazaré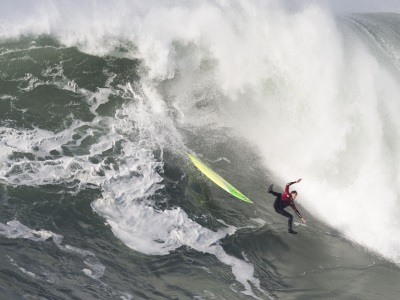 This Saturday, December 30, the waters of North Beach received visitors to live the excitement of catching the Nazaré wave.
The Nazaré Canyon was peaceful, extending the waves up to 9 meters, nerly, and offered another opportunity for athletes. Axi Muniain, Maya Gabeira, Tom Lowe, Ross Clark Jones, Sérgio Cosme, Nuno Santos, Nick Von Rupp, Miguel Blanco, Ramon Laureano, Tony Laureano, Marcelo Luna, Hugo Vau, Jamie Mitchell, Alex Botelho, Eric Rebiere, Andrey Karr and João Macedo went into the water.
In addition to surf, with paddle, bodyboard was practiced by Pedro Levi. The wind was weak but the swell direction was inconstant and several jet skys were taken to the sand. The inside area turned out to be complicated. However, it was a fun session. The wipeout of the day was handled by Jamie Mitchell, winner of the first round of Nazaré at the WSL Big Wave Awards 2016.
The Western Riders were also present and once again provided a slackline session between the Nazaré Promontory and the Guilhim Rock.
The forecast of the coming days have potential to provide more surfing sessions, with a swell exceeding 4 meters and a period around 15 seconds. Keep following the forecast and the local webcam of Praia do Norte.
Here are the photos of today by André Botelho. (click to enlarge)