Paddle, bodysurf and slackline in Nazaré
Published: 12/16/2017 | Modified: 12/18/2017
Surfers practice at Praia do Norte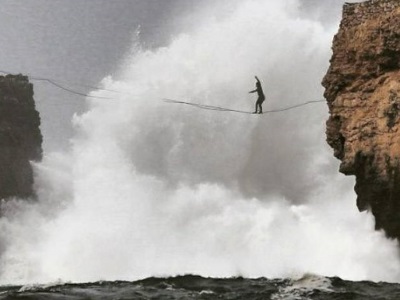 After the Storm Ana, last weekend, and after a rainy week, this Saturday brought a beautiful sunny day and very cold!
The air temperature was around 13 degrees and in the water 15 degrees. Even so, João Macedo, Alex Botelho, Nick Von Rupp, Miguel Blanco, Axim Muniain, Ross Clark Jones, Hugo Vau, Maya Gabeira, Kalani Lattanzi, Sérgio Cosme, Andrey Karr, Andrei Ovchinnicov, Tobi Cuninngham and Othmane Choufani entered the waters of North Beach. The Hawaiian Kalani Lattanzi practiced bodysurf, a way to surf without boards, just with the body motion! Sérgio Cosme did the Water Patrol.
It was a peaceful surf session. The waves reached a maximum height around 9 meters, with a period of about 14 seconds and slightly offshore wind, which was favorable. These conditions were proper for the practice of paddle and bodysurf. In contrast to the usual, some waves of North Beach were quite crowded, with countless surfers, remembering of the famous waves of Mavericks in California. Congratulations to the brave surfers who exchanged the comfort of a good fireplace for the cold waters of Nazaré!
Recalling yesterday, another feat was carried out at North Beach. The initiative came from Andrey Karr, a Russian big wave surfer, which together with the Western Riders, Portuguese highline team, have prepared a slackline session. This sport consists of crossing between two points on top of a suspended rope. Yesterday the team made the cross between the Nazaré Promontory, where the lighthouse is located, and the Guilhim Rock. Check out the impressive moment in the photo below.
The Western Riders athletes practice highline (slackline in the mountains) but also work on bodysurfing, climbing and mountain climbing.
Keep following the forecast and the local webcam of Praia do Norte.
Here are the photos of today by André Botelho. (click to enlarge)