Swell in Nazaré after Storm Ana
Published: 12/12/2017 | Modified: 12/13/2017
Surfers exploit big waves brought by storm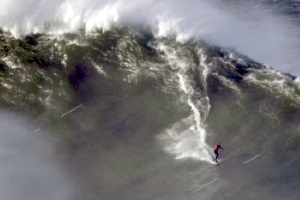 The Storm Ana, who passed through the continent between Sunday and Monday, brought strong winds, heavy rain and lots of snow. Today, in the wake of the storm, the Nazaré Canyon awoke again and brought big waves to the North Beach.
The forecast pointed to a 4 meters swell, period of 13 seconds and some wind. The conditions weren't perfect but the Canyon fired maximum waves that would be around 10 meters high. The wind, absent in the morning, improved in the afternoon, being slightly offshore.
The following surfers were in the water: Hugo Vau, Sérgio Cosme, Nuno Santos, Nic Von Rupp, Maya Gabeira, Sebastien Steudner, Andrey Karr, Andrei Ovchinnikov and Kalani Latanzi. Today's surf session wasn't easy, as the waves weren't well defined. Even so, several surfers took this opportunity and caught some waves (check the photos below).
From next Thursday there's a new window for big waves arrival. The forecast indicates waves about 4 meters (to be extended by the Canyon) and a period of around 16 seconds.
Stay tuned, following the forecasts and the local webcam of Praia do Norte. Here are the photos of today. (click to enlarge)