Day with the biggest waves of the season
Published: 11/8/2017 | Modified: 11/23/2017
November 8th brought giant waves, XXL surf for everyone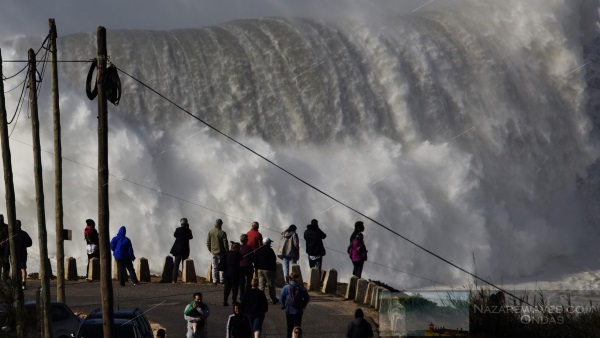 As we announced:
- Nov 8th there are giant waves! Max power at 15h (GMT).
- Nov 9th still big but lowering power throughout the days.
The forecast was confirmed on Nov. 8 (today), as soon as the day was born the waves were already firing in the Nazaré Canyon, the surfers started to surf soon and there were very big waves all day, with the largest peaks around 3pm, with very large sets.
We had 4 live WebCams covering all the action!
See the global perspective of action in Nazaré this day, a brutal drone shoot! Video by VitaminDan:
At least the following surfers were in the water:
Kalani, David Langer, Pedro Calado, Felipe Cesarano, Lucas Chumbo, Rodrigo Koxa, Maya Gabeira, Hugo Vau, Sérgio Cosme, Andrew Cotton, Alemão de Maresias, Sebastian Steudner, Justine Duppont, Mick Corbet, Ross Clark Jones, Rafael Tapia, Marcelo Luna, António Silva and Alexandre Pato.
The waves were very violent, very strong, some surfers caught up with them and it was not easy... Andrew Cotton went to the hospital but fortunately it looks like he's well treated. Check here Andrews's amazing wipeout video! And another FUN video of today with BIG SUP record!
Check here the WSL Big Waves awards entries photos (most of this day).
Look at the replay of today's live video:

Tomorrow there are more waves! Check out the brutal photos of today: