Big and competing waves in Nazaré in October
Published: 10/25/2017 | Modified: 11/4/2017
Between October 20th and 25th the waves and the surfers came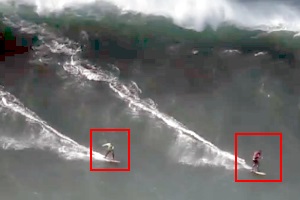 As predicted and announced here, on October 20, 2017, there was great swell at Praia da Norte in Nazaré and during the following days it remained in good consistency until 10/25/2017.
There was also great action in Peniche with another stage of the World Surf League, where big bombs arrived that day.

During this period, many surfers challenged the great waves at Praia do Norte, among them: Lucas Chumbinho, Francisco Porcella, Alex Botelho, Carlos Burle, Maya Gabeira, Justine Dupont, Rodrigo Koxa, Rafael Tapia, João de Macedo and Ross Clarke-Jones.
Surfers caught waves with about 20 meters and there was a ride that caught the eye, with 2 surfers (Carlos Burle and Rodrigo Koxa) in the same giant wave! Watch the video of this wave below:
Francisco Porcela also made a great surfing again, last year he won a Big Wave Award with an identical wave, will he repeat the feat? Check out the video below:
Check this great video too from Máquina Voadora and RedBull Surfing with amazing low angule coverage by drones:
During the 20 of October besides the 3 Webcams present in the site nazarewaves.com it was possible to see an extra Webcam of the North Beach, that followed more closely the action of the surfers, it is possible to see the replay here:
Meanwhile, the WSL Big Wave Tour where the Nazare Challenge takes place (with a date to be announced in this Portuguese winter) gave the green light to the Pe'ahi Challenge already for next weekend.
The swell for the next few days will decrease but until the end of the month can come good ripple, be alert and prepare your trip to Nazaré if possible, the giant waves are a unique spectacle of nature, more and more tourists are everywhere interested.
Here are some more photos of these last days: