Nazaré received the Freeride Championship Tour
Published: 5/22/2017 | Modified: 10/25/2017
Mark Gomez wins the Freeride Nazaré round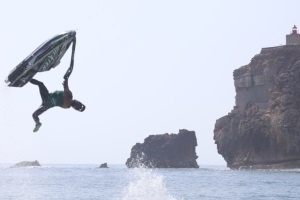 Between May 19 and 21 Nazaré received the third stage of the Freeride World and European championship, a sport that combines jetskis, waves and many acrobatics.
The event took place in the Vila Beach, with a great crowd. Initially the waves were not favorable and it was needed to wait for the ideal conditions.
The best riders in the world of this sport were present in Nazaré, and the big winner was the American Mark Gomez, current world champion, and winner of the 2016 Nazaré round. In second place was the American Brandon Lawlor and third place was a French young man of 17 years, Hugo Goirre.
This Freeride round is another conquest of Nazaré, which is becoming more and more versatile, not only as a giant wave spot but also as a venue for other sport events, with regular waves.
Check this report from CMTV: ACROBACIAS JET SKI FREERIDE PORTUGAL NAZARÉ
The next stage of the competition takes place in Oregon, in the United States, in September. Check all the news in the Freeride World Championship Tour official site.
Check the photos below (by André Botelho).