The Big Wave Winners 2017 - WSL
Published: 4/30/2017 | Modified: 4/30/2017
Nazaré wins the Biggest Wave category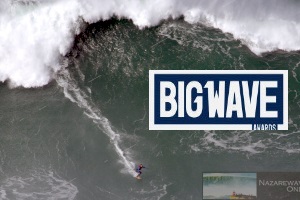 Last night, April 29, the World Surf League unveiled the winners of the 2017 Big Wave Awards at a ceremony held in Huntington Beach, California.
There were 7 categories in the contest: TAG Heuer XXL Biggest Wave, Billabong Ride of the Year, Biggest Paddle, Best Tube, TAG Heuer Wipeout, Women's Performance and Surfline Men's Best Overall Performance. The North Beach in Nazaré, Jaw's in Hawaii, Maverick's in California and The Right in Australia were the winning spots.
Praia do Norte (North Beach) at Nazaré, had 11 nominations. Of the 5 waves nominated for the Biggest Wave, Nazaré had 4 nominations, winning the 1st place, with a 73 feet wave (22 meters), surfed by the Italian Francisco Porcella.
The Ride of the Year Award went to the Hawaiian Billy Kemper, in Jaw's, Hawaii. The famous wave surfed for 40 seconds, by Francisco Porcella at Nazaré, was a strong candidate for the 1st place, but only got the 3rd place. Jamie Mitchell won the 5th place, Lucas Chianca won the 4th place and Ben Andrews won the 2nd place.
Surfers, photographers and videographers were in competition. Hugo Vau was the only Portuguese surfer, nominee for the Biggest Wave category. The photographer Bruno Aleixo won in the category of Biggest Wave, with the wave surf by Francisco Porcella.
And the winners are:
1. TAG Heuer XXL Biggest Wave: Francisco Porcella
Place: Praia do Norte, Nazaré
Photographer: Bruno Aleixo
2. Billabong Ride of the Year: Billy Kemper
Place: Jaw's, Hawaii
Videographer: Etienne Aurelius
3. Biggest Paddle: Ben Andrews
Place: Maverick's, Califórnia
Photographer: Fred Pompermayer
4. Best Tube: Shanan Worrall
Place: The Right, Australia
Photographer: Jamie Scott
5. TAG Heuer Wipeout: Wilem Banks
Place: Mavericks, California
Videographer: Curt Myers
6. Surfline Women's Best Overall Performance: Paige Alms
7. Surfline Men's Best Overall Performance: Jamie Mitchell
Congratulations to all the winners and nominees! Check out the official WSL Big Wave Awards website for more details, photos and videos and keep up with the news as the Big Wave 2018 race has begun!
Check bellow some photos of the day when Francisco Porcela did the biggest wave of the year at Nazaré (click to zoom).