Big and rowdy waves at Nazaré - 02/28/2017
Published: 2/28/2017 | Modified: 3/14/2017
The big riders return to Nazaré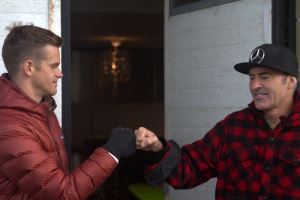 Today brought emotions to Nazaré, at Praia do Norte! The long awaited "big swell" arrived, and with the help of the canyon, offered us great waves. A "sea of people" watched the arrival of the majestic waves.
Check this amazing video from WSL with amazing ride from Francisco Porcella, maybe the winner for best ride this season. (Video by Urafilms.com & Javi Goya)

Surfers in the water: Garrett Mcnamara, Alessandro Marciano, Jamie Mitchell, Hugo Vau, Francisco Porcella, Alemao de Maresias, David Langer, Axi Muniain, Pedro Scooby, Lucas Chumbo, Sebastian Steudtner, Maya Gabeira, Eric Rebiere, Fred David, Ross Clarke-Jones, Rafael Tapia, Andrew Cotton and Pato Teixeira. Nic Lamb was also in Nazaré.
The wind wasn't collaborative! With direction NW, onshore, stoped the raise of the wave. Also, the heavy seas weren't favorable to the safety of the surfers and the jet ski.
There were good expectations for today and the surfers got up early to analyze the sea! They left in the morning and, on the return, Alessandro Marciano confirmed the bad conditions, during the morning. Only in the afternoon the surf was on. Garrett McNamara, who returned to surf in Nazaré, a year after his incident, was live a few times, to give some feedback on the conditions.
UPDATE: Video from National Geographic Adventure, with the brutal rescue of surfers on this day, filmed by drone at low height, amazing!! Video that already has more than 10 million views:
The swell arriving at Nazaré was around 10 meters, with a maximum period of 24 seconds. The canyon managed to amplify some waves near the 20meters. Some waves were surfed and some surfers caught some wipeouts! The rescue team on the jet ski was quick and effective, collecting the surfers. These complicated days are a test, to the resistance and prep of the surfers.
For this Wednesday is expected a decrease in the swell, but the wind could be more favorable and provide another session of surf. Stay tuned, following the forecasts of the Windguru and Surfline, the local webcam of Praia do Norte.
Check the photos below (click to enlarge). Photos by André Botelho