Nazaré waiting for big swell on Tuesday
Published: 2/25/2017 | Modified: 2/27/2017
Good swell, waiting for good wind - February 28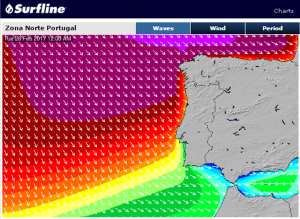 Next Tuesday, February 28, promises to bring a big swell at Praia do Norte, Nazaré, if all the necessary conditions are found! The wind from NW won't be favorable.
A swell is expected at the portuguese coast, as a result of a storm in the North Atlantic. This storm was called "weather bomb" due to its characteristics. The image above, by Surfline, shows the swell on Tuesday.
The forecast indicates a swell around 5 meters and a period near 18 seconds. Due to the special characteristics of Nazaré (Nazaré Canyon), the 5 meter swell has the potential to triple its height and generate waves around 15 meters ... or more!
However, the practice of surf only will happen if all the conditions (meteorological, maritime and safety) are favorable! The wind factor is also important because its intensity and direction affects the wave formation. Only nearer to the day is it possible to confirm all conditions.
We remind that the IPMA (Portuguese Institute of Sea and Atmosphere) released an orange warning, for sea, which extends until Tuesday.
Check the article from the American Surfline Forecast Team, about the big storm in the North Atlantic and the arrival of the big swell. The next photos, by Surfline Team, show the swell arrival to Portugal.

Stay tuned, following the forecasts of the Windguru and Surfline, the local webcam of Praia do Norte and the next post.