BIG BIG WAVES TODAY FEB 10, 2017
Published: 2/10/2017 | Modified: 2/25/2017
Big swell of the season - Nazaré bombs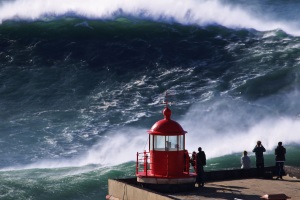 After wednesday, with waves around 10 meters, the Nazaré Canyon offered us, one more time, the epic swell! The morning was weak, with rain, some wind and some cloudiness. The afternoon brought the sun and the famous waves of Nazaré, in the biggest swell of the season… so far.
Justine Dupont, Eric Rebiere, Sebastian Steudtner, David Langer, Alemão de Maresias, Nuno Santos, Andrey Karr, Toby Cunningham, Ross Clarke-Jones, Mick Corbett and Zac Haynes entered the water to catch these famous waves. Sebastian Steudtner caught the biggest wave of the day! Check the next video, by Humberto Santos, with Sebastian riding the wave (award entry - Ride of the Year - WSL).
A big swell is also synonymous of big wipeouts and there was some falls. Congratulations to all the surfers who conquered the big waves today and offered us another surf show in Praia do Norte.
Check out the fantastic photos of today, which, besides showing the bravery of surfing, prove the great strength and beauty of Nature (especially photo nº 24). The photos are brought by André Botelho, who searched different places, to bring us different angles of today's session. A work of readiness, patience and instinct for the right click! Thanks for the great effort!
Check the next videos, first by Humberto Santos, showing the best of the day and second by RedBull
EPIC FRIDAY | 10-02-2017 from Praia do Norte on Vimeo.
Stay tuned, following the forecasts of the windguru and the local webcam of Praia do Norte and the next posts.
Click bellow to zoom photos of this day: (photos by André Botelho and Polvo J. Leal)