Big Waves surf session at Nazaré - February 8, 2017
Published: 2/9/2017 | Modified: 2/10/2017
Power to Women, Justine Dupont surfs her biggest wave at Nazare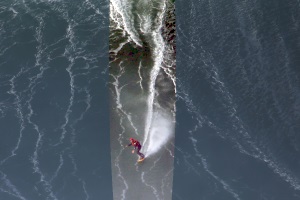 This Wednesday, February 8, Praia do Norte received another surf session. After the storm Dóris, this was the first day with the best conditions: swell above 3 meters, period around 14 seconds and weak wind. The biggest waves, fired by the Nazaré Canyon, would be around 10 meters.
Several surfers, already familiar with these big waves, entered the water: Toby Conningham, Alessandro Marciano, Alemão Maresias, Eric Rebiere, Sebastian Steudtner, Luciano, and Nuno Santos.
Besides these well-known faces, the waves of the North Beach had a special presence, the professional surfer Justine Dupont. Justine surfed, yesterday, her biggest wave and also the first wipeout of Nazaré! Justine is to be congratulated by confirming that the women's surf has a place in the great waves of Nazaré.
For this Friday is predicted an increase in the swell, to be around 5 meters and a period of 15 seconds. If the wind, along with other conditions, is favorable, we will be able to continue surfing this week.
Stay tuned, following the forecasts of the windguru and the local webcam of Praia do Norte and the next posts.
Click bellow to zoom photos of this day: (photos by André Botelho)