Nazaré Canyon brings big swell again
Published: 12/23/2016 | Modified: 12/23/2016
Yesterday's session with big names of the surf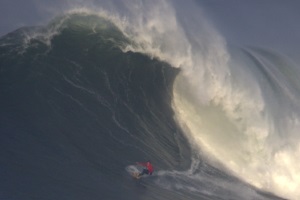 Yesterday was marked by the arrival of a big swell in Praia do Norte. Many big riders entered the water to challenge their limits and measure their strength with the bombs, fired by the Nazaré canyon.
Francisco Porcela, Lucas Chumbinho, Axi Muniain, Carlos Burle, Peter Mel, Sebastian Steudnter, Maya Gabeira, Jamie Mitchell, Keala Mamala, Andrew Cotton and Cliff Skudin were in the water. The waves of the North Beach had a presence of weight, Peter Mel, famous Californian surfer, and host of the events of World Surf League. Peter Mel knows very well the famous waves of Mavericks and met today, for the first time, the power of Nazaré waves ("the Portuguese Mavericks").
The conditions remained similar to the previous days: weak wind, period around 14 seconds and waves with a maximum size of 12 meters.
It was another day of strong action at Praia do Norte, which on the December 20 received, for the first time, an event of the Big Wave Tour (WSL), the Nazaré Challenge, which was won by the Australian Jamie Mitchell.
Look at today's session: below the photos (click to enlarge) (photos by André Botelho)