GOOD NEWS! Big wave world championship day 20 December confirmed!
Published: 12/17/2016 | Modified: 12/17/2016
Great photos from Nazaré today and confirmation of the WSL event next Tuesday almost for sure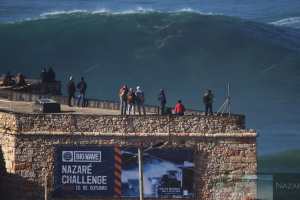 2016 Nazaré Challenge will be on 20th December (Tuesday)!
Check out the news on the official WSL website.

Finally we will have the WSL big waves world championship within a few days in Nazaré!
The giant swell arrived this weekend as we had announced, and today was the best day with big waves, see below the photos.
In the paddling were present:
Alex Botelho
Tom lowe
Zac haynes
Jamie williams
Trevor sven carlson
In Tow-in were present:
Marcelo Luna
Hugo vau
Andrew Cotton
Alessandro Marciano
Toby Cunningham
Andrey karr
Sebastian Steudtner
Eric Rebiere
Click on the photos below to enlarge, like the photos? Share the link to the site NazareWaves.com.