The weekend swell arrived at Nazaré
Published: 12/16/2016 | Modified: 12/16/2016
Big waves but no surfing conditions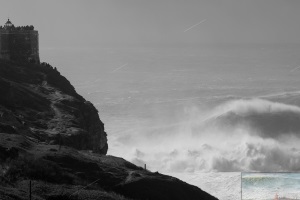 As predicted, a big swell arrived this Friday to Nazaré, and possibly will continue through the weekend. The remaining sea and atmospheric conditions will determine if there are conditions for the practice of water sports.
Today, the biggest waves would be around 15 meters, but the wind was not favorable. The surfers Andrew Cotton, Hugo Vau, Alessandro Marciano, Marcelo Luna, Sebastian Steudtner and Tom Butler entered the water, to check on the conditions, but together they decided that the wind was very strong, which didn't allow a good surf session.
The forecast for Saturday and Sunday indicate a slight decrease in the swell, but the period will be favorable (around 14 seconds), and offshore wind can bring better conditions.
Stay tuned, following the forecasts of the windguru and the local webcam of Praia do Norte.
Look at today's session: below the photos (upload to enlarge)