New statue in Nazaré and more recent activity
Published: 11/20/2016 | Modified: 11/21/2016
A new statue, more big waves, a life story and the Red Chargers awards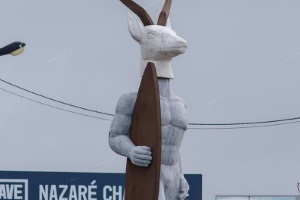 This week a new statue was placed on Praia do Norte in Nazaré, offered by sculptor Adália Alberto, related to the legend of Nazaré. It includes a surfboard, in connection with the latest activity on the North Beach. It should begin to appear soon in the background photos of the lighthouse. Check the statue in detail in the photo gallery below.
Watch the video "Marcelo Luna - Nazaré Minha Família", where the surfer talks about his life and the connection to Nazaré, now his second home:
On Saturday, November 19, RedChargers surfers (among others) got together for a good surf session, not a giant day but with decent "bombs", good for catching waves in the paddling. These surfers followed in the evening to Lisbon, where the movie "Redchargers" (filmed last winter in Nazaré) at the SAL film festival was shown, and then the RedChargers awards were delivered. Check this movie trailer below:
Red Chargers Trailer from The Go Big Project on Vimeo.
At the beginning of this week there may be good waves Monday and Tuesday and then the waves will calm, we will see if the month of November will still bring waves above 20 meters or we must wait for December. :)
See below the photos of the surf session on Saturday 11/18/2016 (click to enlarge):